Introducing: The Brand New Wake Up Warrior
Your Already Unprecedented Warrior Experience...Now Elevated & Transformed.
Launches @ 10am Pacific Tuesday September 21, 2021
"What the Hell Is the WUW Central Command?
And Why Will This Transform My Experience...?"
Put simply, the WUW Central Command (CCMD) is the VIRTUAL Warrior Headquarters, and the brand NEW base of our operation.

It is from this base that the Mission of Warrior will be fulfilled; which is to not only get the transformative training & experiences, and our cutting-edge tools, weapons and systems into the hands, minds & hearts of millions, but to also ENSURE the (Painful) Process of Growth & Expansion becomes as Enjoyable & Efficient as possible by Empowering you to...
Now,

Over the years we've fucked up quite a few things through the SHIFTS we've made, and the insane SPEED of Production we've had combined with attempting to SIMPLIFIY shit only to see your experience becoming Complicated & Confusing with how...if you're not on your toes every single day, every single week...

...and you do not carefully read every word of every email you get, or watch every second of every LIVE Training...?

You quickly feel like you are left behind, that you're missing out, and that it is impossible to stay up to speed, on-track, and on-point.

Especially when you're a Producer, a Partner and a Parent.

Who juggle the chaos that comes from the Trifecta of Insanity; Business, Marriage & Life.

And so after 'missing out' on just ONE Week of Warrior Action, you're at the risk of isolating & distancing yourself from the Warrior Game.

Because the act of 'catching up' to bring yourself back up to speed takes too much on top of everything else you're up to.

We get it. You're launching products of your own. You've got clients & teams to deal with. You go on sexcations, family holidays, and school events. You take care of your Fitness, Health & Nutrition.

You're LIVING the Have It All Lifestyle refusing to settle with mediocrity.

You're also a Student, and an Active Seeker of Growth & Expansion.

You're climbing the 4 Summits which - as we've been warning you about - is proving to become heavier and heavier while you are also managing the Chaos of Abundance you've created & established for yourself already.

With all that, it is becoming more and more difficult to follow-through on your own commitments to your own Ascension, and to Leverage the Momentum you have from all the Painful Yet Powerful Progress you've had the Privilege & Pleasure to Experience thus far.

Because let's face it.

While the AudioApp helps you access "Garrett the Teacher" any time, any place so you can easily Listen & Study on-demand...?

There's no efficient way to continue where you left off.

Instead, you are forced to scroll & scatter hundreds of tracks to find the ONE where you're at.

PLUS,

There's ZERO notes or resources provided TOGETHER with the content to assist you.

This leaves you Confused, Frustrated, and Even Pissed.

And yet again, feeling like you're left behind.

By us.

AND,

That WE are not honoring our own Rules...
Because How Can You Effectively & TRULY...
Despite All Of This, You're Here.
You're crushing it. You refuse to give up, or to Quit.

You're CHOOSING to be Patient, to Stay Present, to Make Consistent Progress, and to Trust the Process.

Because you have not only SEEN the Powerful Results the Warrior's Way empower people such as yourself to Create.

You have experienced it first-hand yourself...because you have not just done the work...you are DOING the work.

Yet you know there's more for you.

Plus,

You've embraced the REALITY that this is NOT fucking easy even though the entire System of Warrior and Our Tools & Weapons are shockingly simple in nature - AND, that NO ONE is coming to save you from doing the work required to get the results you desire.

So thank you. Your commitment and courage is not something we take lightly, and we GET IT that it's been Challenging to not only keep up with the Changes, Shifts & Pivots - but to also powerfully & effectively climb the Summits due to all of the above, and more.

Which is why we are ALL THE MORE excited to not only make 'Central Command' Official, but also begin to get it into your hands.
Now...Here's HOW the Central Command
Transforms Your Experience
Effective Immediately Starting @ 10am Pacific Tuesday September 21, 2021
The BIGGEST Instant Impact CCMD Will Have On Your Experience, Will Be With...
The NEW Wake Up Warrior ARMORY! (3.0)
With the release of Armory 3.0 within CCMD, you'll enjoy...
🚨 NOTE: Don't worry...The Warrior Audio Armory App is not going to be deprecated. But it will not longer be the ONLY delivery tool of the most up to date Transformational Training of Warrior. Instead, it becomes a Secondary/Supporting Tool for Easy On-the-Go Studying, aka what its created to be - and not what we've 'pretended' it is, or 'hacked it' to be.
Let's Take a Quick TOUR of the ARMORY 3.0 Dashboard
Easily access the latest 4 updates such as GTs & Replays, or go to a sub-page where all Member Posts are accessible.
1 of 5
You'll also see the latest 4 posts from the Official WUW Blog, here featuring the impactful 'Untold Stories' Project.
2 of 5
Go directly to your last visited Course/Journey-related page with a click/tap of a button.
3 of 5
The simple to use Course Navigator (with Filters) allows you to quickly find relevant & available Courses, AudioBooks, Experiences, and more.
4 of 5
Instantly see your Enrollment & Progress status for everything inside, and simply click (or tap) to access your Experiences.
5 of 5
And Your Focused LEARNING Experience?
Once you dive into any course or experience, you are taken into a Distraction Free Zone with a Dead-Simple Minimizable Course Navigation that helps you not only stay on-point and on-track, but also easily progress step-by-step with the built-in progress system.

You simply login, continue where you are, follow instructions, enjoy the process, and keep moving forward making consistent progress.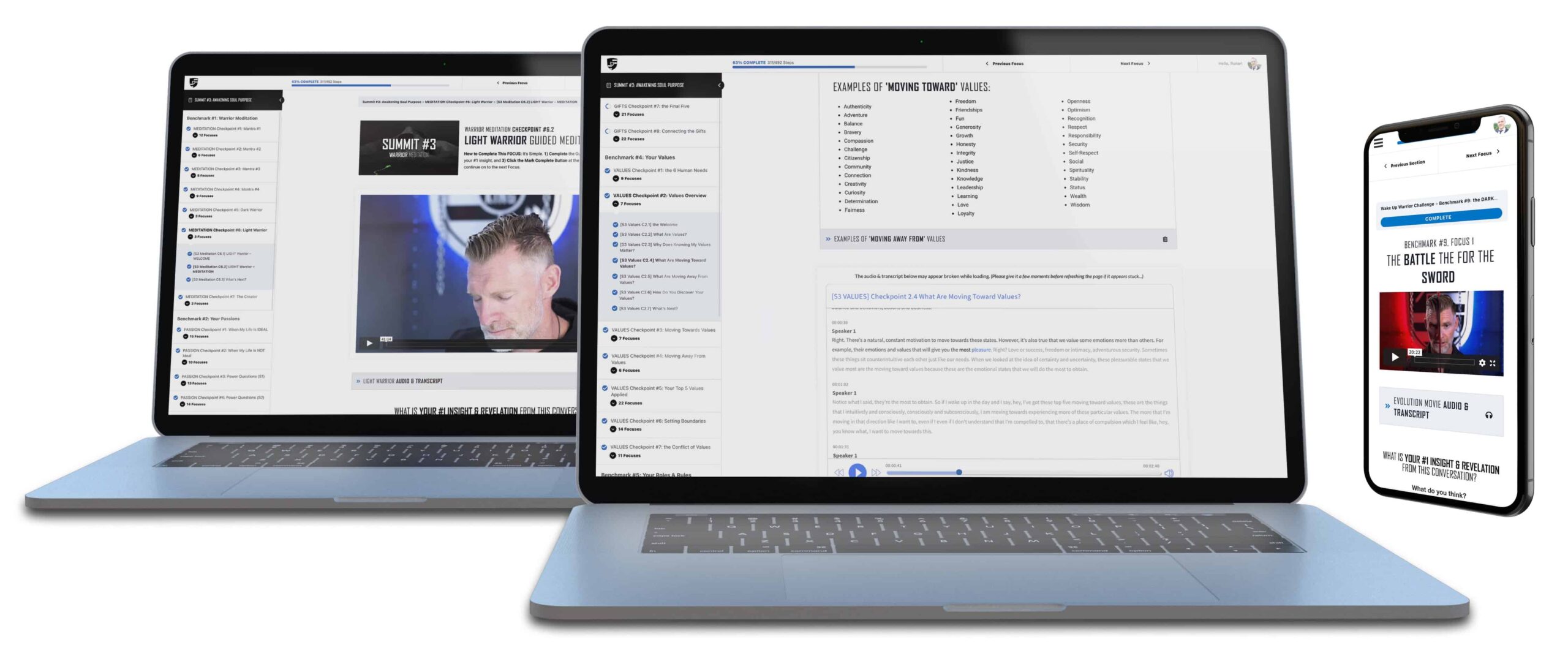 With CCMD, You Will Also Always Be...
...Just ONE Click Away From...
So You Can Rest Assured You'll Never Miss Out On Anything...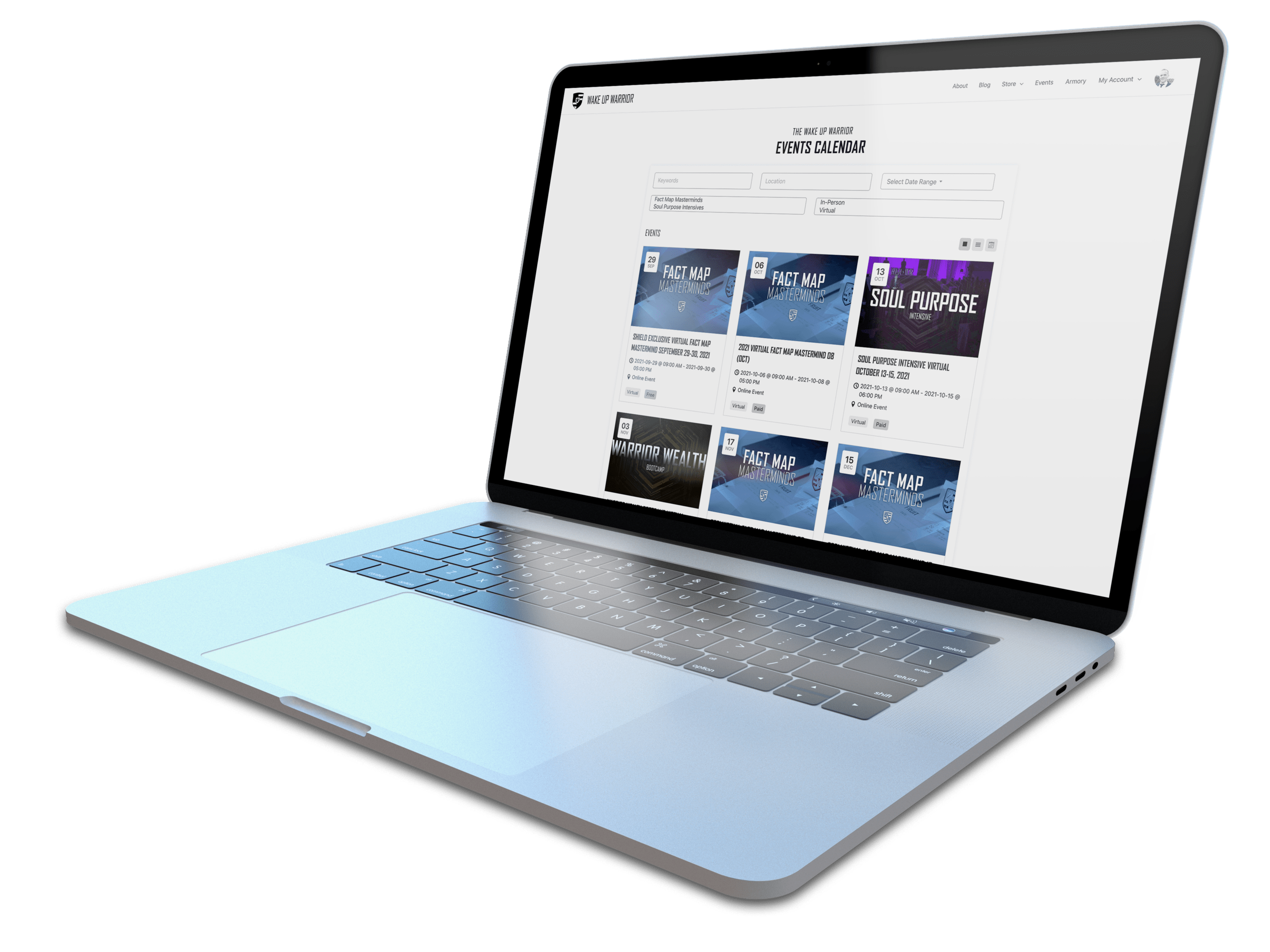 Excited Yet? Good...Because ALL of the Above Is Just Roughly
40% Of What Central Command Is
Yes, that's right.

We got plenty more in store for you with how CCMD Is Nothing Short of a Movement Enabler that will set a new standard for Visionaries, Coaches, Leaders & Entrepreneurs on how to create unprecedented one-of-a-kind experiences.

With what is coming down the pipeline, you'll get opportunities to bring your Family and/or Team in with ease, experience an Utmost Liberating Experience (if you have the courage to), and Participate, Engage, Contribute, Leverage, and Even Bank PROFITS from interlinked projects previously deemed to be something Warrior has been 'light-years' away from even consider doing.

You'll get the juicy details and (estimated) timelines shortly, so stay tuned...

(...but know there's clues throughout this page on a few of these things...)

Either way,

Welcome to a NEW Era of Warrior.
Your Transformed WUW Experience...
Begins At 10am Pacific Tuesday, September 21, 2021